As an added speciality, Horizon Lets offer a unique service for landlords who are in the Forces.
We are a business who knows what it is like to live in the military world because our Director Chris spent the majority of his 20s in the military serving in different parts of the UK armed forces originally starting as an officer in the Royal Marines. Chris is now a linguist by trade and is still a serving reservist.
We are very aware that the very important role UK forces personnel play in protecting our society and to show our appreciation for their service we are keen to offer them a 10% discount on production of their UK Military ID Card. We are aware that UK Armed Forces personnel have a nomadic existence so are often found needing to leave their home to be based elsewhere and therefore it is in their interest to rent out their homes if they are not there.
Therefore we know that they become accidental landlords through their service so are keen to help guide them through the complexities of being a landlord and Horizon works with UK Armed Forces personnel to provide an unrivalled service so that they are able to concentrate on their employment and be assured that their most valuable asset when they have to leave it is in good hands with us! So, if you need a property management package that is tailored to you such as making sure your property is available for you on return from assignment or advice on becoming a landlord then we are the obvious choice.
Property Management
Expert Property Management nationwide with the added assurance of knowing your service is being tailored to your needs as a military landlord.
Fixed Fees
Our fixed fee structure means that you will save hundreds of pounds compared to other agents out there. You will also take advantage of the 10% discount on all our fees.
Additional Services
Horizon Lets go the extra mile for our military landlords. Whatever you need we can help. Whether that includes dealing with utilities, helping with your tax return, forwarding mail or something more specific we can make sure it is done.
Advice
Take advantage of our lettings experts to get advice on your responsibilities as a landlord and make sure that you are protected. There is no obligation to let your property through us, you can just ask for advice!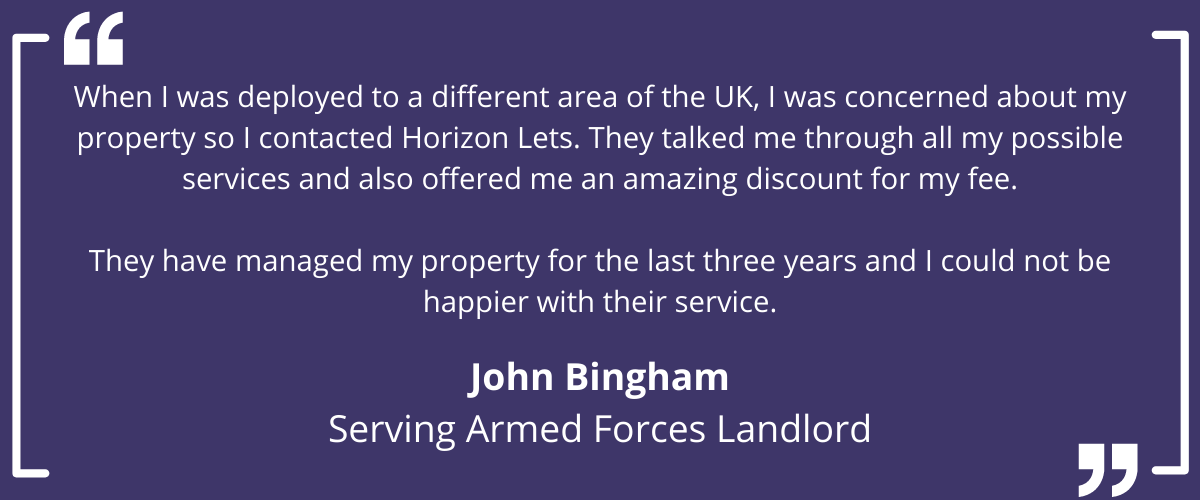 From our inception, Horizon Lets has signed up to the Armed Forces Covenant, click the logo below to learn more.